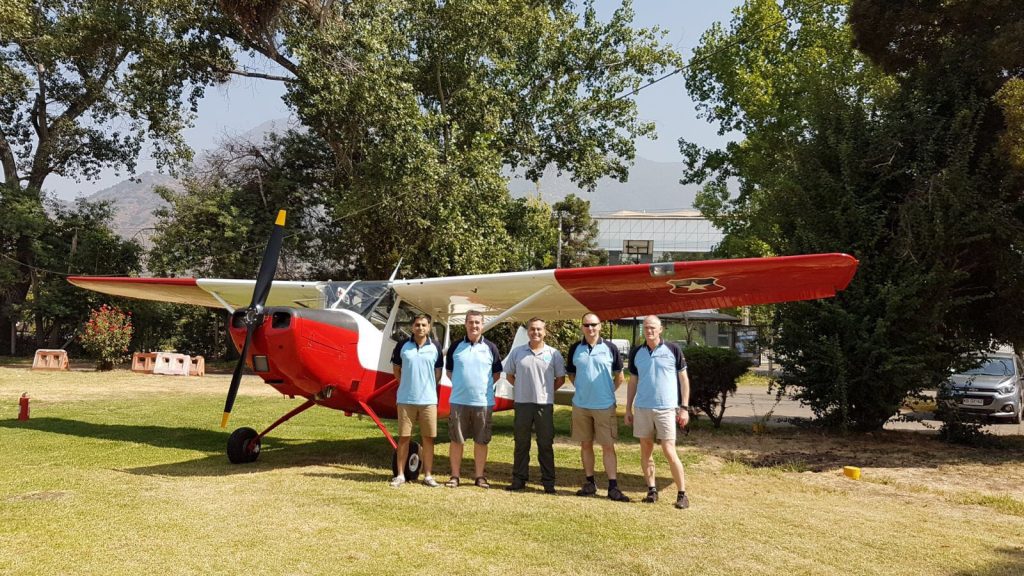 Day one starts we being collected from the military hotel that is downtown Santiago, a journey of about 30mims to the airfield of Vitacura. We given 3 comprehensive briefs on the local operation, security and a met office briefing. The weather brief, give the impression of poor conditions 4 knots with high cirrus locally. We launch on day one with a poor forecast from the DGAC met officer.
---
Jon Arnold
I am second to launch and it looks poor, but we prepare to tow to the same location as the first glider. However a mis-communication with the instructor causes us to release far too early " I thought you said it was ok to release" After 20 minutes testing flying we head south to the erase point and there is a 3m/s thermal to 7500ft Amsl and we chase the others north via espanoles, Lagunas and then further north. Into lagunas the airmass has changed completely and it's hugely unstable, thermals now 4-5 m/s and we are soon above 16000ft running to the Square lake some 130 km north of Santiago . Meeting 2 other gliders we soar together and then press on to "Y" before turning for home. We glide non stop for home just running ridges for some 150 km, arriving over the centre of Santiago around 1000m above the arrival height, awesome day after a poor forecast.
---
Frank Soowamber
Launching 3rd on the grid, I had time to become familiar with the flapped Janus aircraft. Having never used oxygen I made sure it was fully functioning in case of a long and high flight! As conditions improved north and strong thermals pushing us higher, we soon masked up and powered on. The ridges and dynamic lift proving powerful, gave us the height needed to progress to higher altitudes. After reaching 5100m and 2.5hrs flight time, i felt it be best to head back, allowing me to ease myself into a tough and testing 12 days of flying ahead.
---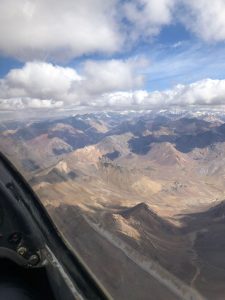 Alan Swan
launched first on the grid in the mighty Nimbus 3DT; had a long tow and quickly was reminded of how heavy a glider it is. The sloping horizon made it quite challenging as well as the typical narrow Andean thermals. We then worked North along the ridges and cloud base continued to rise and we topped out of one thermal at 16,500ft with a climb rate of 8kts. We followed the same route as the other crews but being in lead spotted the thermals which was being relayed in frantic Spanish in the back seat. We went slightly further North up to a giant Copper mine at Columbus 180km North of Santiago. The way back was quite straight forward with turns just for practise but mostly running the ridges. We were back at Vitacura above cloud base so had to air brake down. Wow what a fantastic first flight of the expedition.
---
Paul Moslin
is last to launch which is delayed for then Birddog having to refuel before launching us in the Janus. We take a longer tow to catch up the gaggle, noticing as we get out the Santiago bowl, the conditions looked like were getting better up north. Joining the main gaggle, we folllow the similar route Y, flying along the Argentina border, before flying final glide 150km back along the ridges to Vitacura.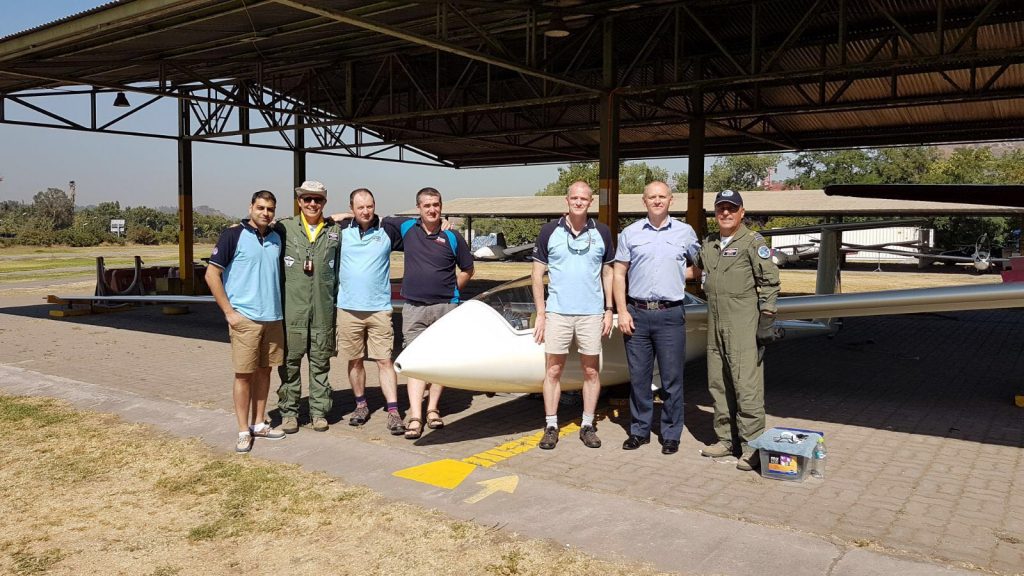 Jon Arnold
The met forecast indicated better conditions and higher temperatures, with a drier airmass expected. However, after launch it was quickly apparent that it was not a dry airmass with lots of humidity again. I ( Jon A) in V23 was first away and struggled to get high enough to go up espanoles, so headed to lagunas low level out to the west, eventually hitting the northern end of lagunas about 300 metres below the top…
A good climb allowed us to jump to the north and over square lake again . Past"Y" we continued north to pelambres and the Columbus copper mine where conditions were very stable. Having parked to gain height to cross back south we weaved our way via a cumulus street to the east meeting v25 at Y and then running south down the ridges for 130 km non stop back to Vitacura.
---
Alan Swan
Another grand day out with Phillips in the Nimbus 3. A shorter tow left us struggling to get away in the local area just North of Manquehue and it was not until Espanoles that condition made the climbs easier. We then progressed to try and penetrate into the high mountains to the East but were beaten back by a stubborn cloud base at 16000ft. We then headed North to meat with V23 for a run South along the ridges. Again a 300km+ day.
---
Frank Soowamber
In the aircraft as the previous day and expecting better flying conditions, we made sure there were sufficient provisions and snacks on board for the flight. 3rd on the grid and taking a shorter tow to Manquehue, I quickly found myself sweating and working hard to achieve a decent climb in order to progress north! Al Swan joined us in a thermal and was able to progress along the Portreous ridges to the north. An hour into the flight presented different conditions with a much lower cloud base and prevented us from progressing far passed the north of Lagunas. The flight did however allow me to hone and practice my tight thermalling technique for the mountains and after 3.5hrs, we land back at Vitacura, with beautiful pictures of Santiago.
---
Paul Moslin

Being 2nd to launch sometimes make it a little more difficult , trying to find the best bits for others to follow on. Struggled a little on Porteous ridges , one established in a good climb well. Below ridge top, conditions improved all the time. Standard run up to square lake and Y, as reported by the team, the lowish clouds on the mountains made the return a little problematic , with 1000 metres below final glider to Vitacura , we had passed some good looking cumulus only to find no lift. We park on a couple of locations to find lift in the weakening conditions to pick up a good climb enabling a final glide from 80 km out on min glider using all the ridges. Longer than planned flight, some scratching of heads , lots learnt today, great day in paradise.


Frank Soowamber
The met brief looked very promising for the day with stronger thermals expected and a much higher cloud base. I undertook the intermediate flying area which lends itself to a shorter flight of 2hrs. This area is used to progress instructors from Vitacura before moving onto more advanced flying further afield. It was a confidence boost understanding the typical ridges and areas used to progress north and west and taking the opportunities to visualise land out airfields such as Los Andes, Chicareo and San Felipe. A great flight honing and consolidating my flying experiences thus far.
---
Alan Swan
With a better met forecast we headed straight into the bigger mountains and did battle with the strong and tight mountain thermals. Again we found wave in the valleys and we topped out at 20,000ft at the Mouth of the Olivares valley. Conditions to the South were reported to be poorer with a lower cloud base so we headed North and tried to get to Aconcagua but were defeated by lingering cloud. We then romped back along the ridges via the ski resort.
---
Jon Arnold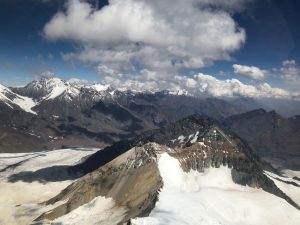 After a great met brief we ended up with a short flight later in the afternoon. Looking to go inside to catch up the others we missed a couple of thermals as we struggled with a TE leak. We tried three routes from Lagunas to get to high mountains. With the day dying we turned south and "rock polished" at 100 kts plus all the way to the south east of Santiago…
---
Paul Moslin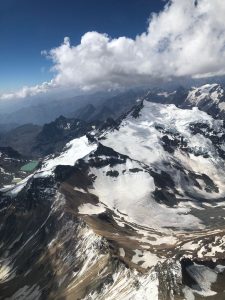 DGAC provided a very good forecast, Claudia gave the impression that the conditions had improved significantly on the previous day. Standard route to the higher mountains, some amazing experience of rock polishing with very strong ridge lift. Once established in the higher mountains, it immediately became apparent that Aconcagua wasn't on due to low cloud, so having to airbrake down to try to go south was a shame, but the ridge were working exceptionally well. Wave was found and played with., followed by running the ridges at low level towards Blanco and then back up north via the Ski resorts north east of Vitacura. Another exceptionally good day.
Alan Swan
We launched last and found it difficult to climb away due to strong inversion at 9500ft. This meant we could not transition on to the higher mountains, after an hour of fighting with the thermals at Lagunas we return back to Vitacura.
---
Jon Arnold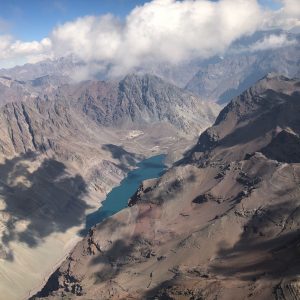 First on the piste, we climbed briefly on Manquehue, then moved north in portreos to get to 2200m. After laboratory we couldn't get up espanoles, so went proper low level out to the west. Eventually after lurking around 1700m we climbed away and crossed to Lagunas from westerly direction.


After Lagunas at 3800 we headed north towards square lake but could not make it work. Eventually we jump inside towards Acancagua from the north. At a ridiculous point we find the ridges and airmass too stable to run down the boarder to the south. The Rio Alevares is to hazy so we go around copper mine then south burning our height over the ski resort then south to San Jose for weak wave. As the day dies quick we trundle back to Vitacura from the south…
---
Frank Soowamber
3rd on the grid in V16, I had the privilege to fly with Alex the Chilean CFI and this flight was incredible! After a quick tow onto Manquehue and using a powerful thermal to over 2200m, we progressed north to Porteous and Laboratory, gaining enough height to push slightly NW using the energy generated from the sunny ridges. With a little patience polishing rocks on Lagunas we were able to skip north and gaining height by the copper mine reservoir. It took time to penetrate the inversion and after a great climb in Wave, conditions allowed us to play around the Tower with excellent footage taken along the way. We then headed for the Ski resorts on our way back to Vitacura and landed back in time for a great bbq with great people.
---
Paul Moslin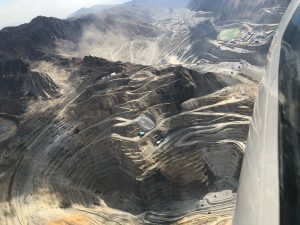 Another good forecasted day to venture up to the big mountains. Some challenging thermals early on, slowed us to push up through into the 2nd system. Once established into the higher system thermal strengths were noticeably stronger. Aconcagua yet again has low clouds to stop our progress to the "the big one". Sight seeing thrips to the Inca lake and the copper mines, followed by some weak wave flying, with an early return to prep the BBQ.
Day 5 The met forecast is similar to the previous day but as we launch it is clear that there is a lot more moisture and a solid single inversion in the lower mountains. However, the local instructors are more confident that it will be a better Day in the higher mountains with fewer clouds expected.
---
Jon Arnold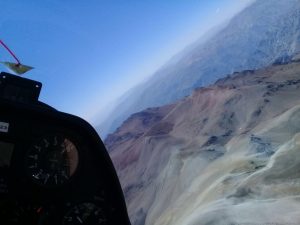 A day in the office of the large two seater with Alex Chanes begins with a faff on Manquehue. Soon we are running north and a patient time near Laboratory north allows a transit via Moraco and arrival at Lagunas. Heading north we decide that it might be possible to jump onto Aconcagua. We cross from the north is some strong winds and rough conditions. We bounce onto " the big one" but at 5800m it all dies x . We search Around but its not working so we leave to South. Altos Leones, we find weak wave and more thermals. We press down the Rio Alevares where it's rough and turbulent we find several areas of lift from wave.. at the end we turn south east and pass Laguna negro… At 70 km to run we turn into a 40 'nots head wind at 16500 ft and use the Nimbus performance to get us home with 1000m to spare ….
---
Alan Swan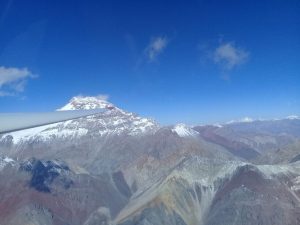 First on the grid today and in a Janus C with Alphonso launching at 1410. Conditions were quite challenging and we got parked on Lagunas trying to get above 10,000ft. We then moved inside and up into the second higher thermal system with some climbs at 15kts+. We also made an assault on Aconcagua at 23,000ft and although we made it to the final ridge at 20,000ft we were beaten back. We then headed South running the ridges of the Olivares valley which was both turbulent but with strong climbs. We flew over many glaciers including one hanging precariously on Cerrio Morado. We then romped back to Vitacura.
---
Frank Soowamber
3rd on the grid in V16 and aiming for a swift launch to Manquehue, Arturo and I agreed to push as far north for the 'big one' if conditions would allow. A quick climb for pushing to Portreous, we lost a lot of altitude in terrible sink and worked hard to regain the height before progressing onto Maraco and Lagunas. Conditions allowed us to get very high and push to Olivares. Joining Jon and Al in the powerful thermals (including a couple of Condors) we pushed onto Aconcagua but like the others, we could not get higher than 20000ft and headed south to Laguna Inca and Black Peak. After 4hrs we headed towards Vitacura from the south, passing the Ski resorts and Arturo's house! A great day flying and learning more about the powerful Andean Mountains.
---
Paul Moslin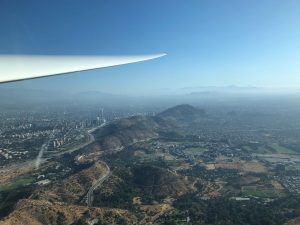 Last of the grid today with Fernando, started well with a good climb on Manquehue , followed by a good great climb on Portreos, then it became a bit too difficult . Tip tow round Maraco, parked for some time until we get high enough to glider to Lagunas,. Arriving well below ridge level, using some good principles to get on top. Due to the conditions and the being last launch prevented us going inside to the higher mountains.
Paul Moslin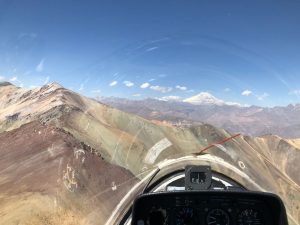 Well a normal start to the day, breakfast in the military hotel in Santiago, wheels at 9-30. Social coffee followed by met brief by DGAC. Today's conditions are forecasted to be slightly better with thermal strength expected up to 4.1 ms. Things to learn on my return to the uk, the mysteries tephgraphs, so much information to be gained from them.
Great flight today, very similar route to previous days, but the inversion is harder to penetrate than previous days. Saying that, can't always have strong condition, used some uk skills to climb up to enable us to progress up to Copin.
---
Alan Swan
Another challenging start and we had to work hard at low level North of the Los Andes valley before we broke through the inversion with some classic mountain figure of eight soaring close to the ridges. Once we climbed through the inversion we had very good conditions and made another attempt on Aconcagua but again thwarted on the final ridge. We then tracked South and along the Olivares valley and were able to climb to the East and headed to Tupungatito. With some dynamic flying on the ridges we were able to overfly the the active volcano with its boiling Sulphur pool and progress onto Tupungatito. With excess height for final glider we were able to set -7 flap and complete the final 70km to Vitacura and land in 20 mins. A total of 380km.
---
Frank Soowamber
Following another promising Met brief, we headed to the grid ready for flight. Prepping the glider with General Pena, we agreed to climb on Manquehue before pushing north. However, we quickly found ourselves struggling to get through a strong inversion at 2700m. Looking ahead for any signs of lift from Esponales and Lagunas , we heard on the radio that the others were struggling also, so we worked had no choice but to hard along Moraco & Laboratory. Conditions were not improving and with a lot of height lost, we found ourselves running away back to Manquehue at 1300m for a top up of height with a possible land back at Vitacura 2 hrs in! Gaining enough height to move on, we headed south in search of different lift opportunities and the ridges were fun with very powerful thermals. Looking to join Paul on our flight back to Vitacura, we landed back after 4.5hrs. A difficult flight honing previous experiences gained from the UK, Alps and Andes.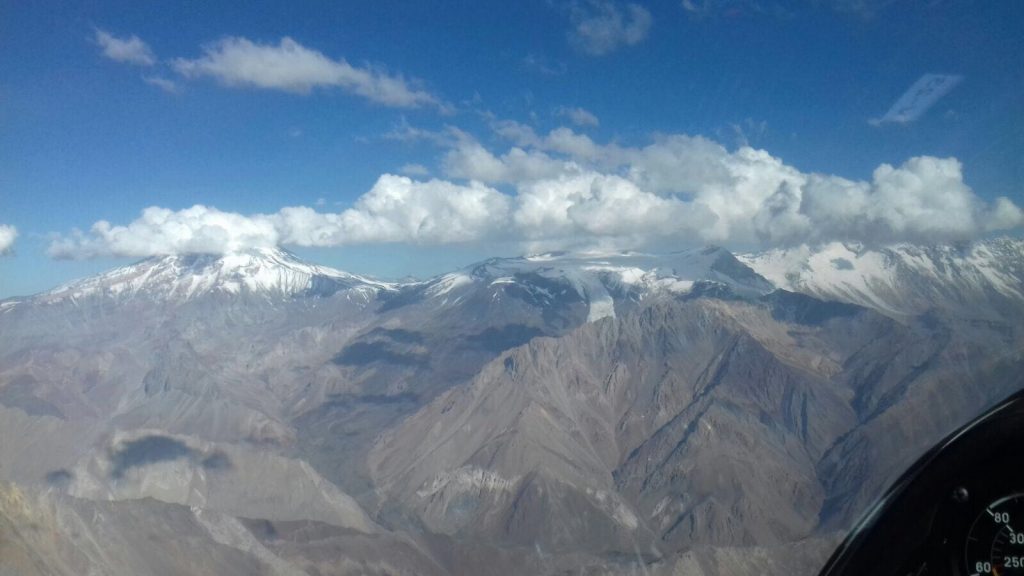 ---
Jon Arnold
the Met was looking good, but proved really tricky low down with a stable airmass. So again another very low level transit to Lagunas. at the north end we climbed to the top and eventually worked our way north to square lake where we climb to 5100m which allows us to head south east and run the boarder to Los Altos leones. Crossing back late in the day we hit a 12kts average thermal which gives us the margin to change our route and go Dow The Olivares and to Laguna negro and then a 50km final glide home
Day 7 starts with an early alarm clock to depart to Valparaíso. We are being hosted by our Chilean hosts, we are given a sight seeing walking tour round the sights, taking in the history of the city. A town with such a fine history, during the tour the tsunami alarm is sounded, a routine sounding the locals ignore. A fine meal is taken in one of the many restaurants.
Alan Swan
Conditions were quite challenging with a heavy inversion which was difficult to penetrate. After 2 attempts to climb on Espanoles, key to getting quickly into the high mountains, we stayed outside and worked up to Lagunas. We were able to climb above Lagunas but could not get enough height to go properly inside. A hard day but still in Chile.
---
Jon Arnold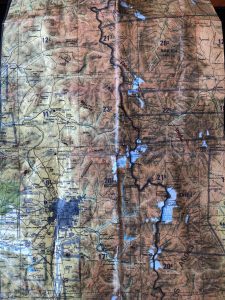 An awesome flight with an amazing instructor and friend…we briefed about the conditions being tricky and stable and about being patient. Having trickled up Espanoles whilst the others headed west we found ourselves parked on a ridge line with little wind and a long thermal cycle. searching for some 10 minutes all appeared lost. Moving 1km north to a grey crag of rocks we find some bubbles of energy. Circling for 5 minutes or more we only gain 30 metres or so…. then suddenly there is a surge and a 2kt thermal builds.. we are through the inversion and into the upper system.. we climb to 4500 m then head inside to the big mountains.. we climb again to 17000 ft and head over Olivares river. Pressing on south above 18000 ft to Tupungatito we carry on south in very strong condition with a strong northerly wind allowing the ridges to provide dynamic lift to over 20000ft…. following the International boarder southeast Muela to the Diamond lagoon and to the volcano at cerro bayo. At 19000 ft it's time for home and a final glide of 110 km with a stop south of Laguna negro where we take a 6kt wave climb that allows us to go direct to Santiago via the edge of the ski resort ….. just sensational.
---
Frank Soowamber
2nd on the grid, General Pena and I prepped for a similar day to that of Saturday. The conditions looked to be more stable with a stronger low level inversion. A slow but positive climb from Manquehue allowed us to push on. Joined by club gliders and Al, we did not get the lift we wanted and headed for Moraco. Gaining enough height to 'play' along the ridges towards Lagunas, we remained patient waiting for the thermal cycles which were prolonged due to the lighter winds. Drawing on previous experience from the flights thus far, I quickly picked up good lift from the trusted hotspots, making for a little rest bite in working so hard! After 4hrs, we arranged with Paul to attempt a formation photo opportunity, topping off a good flight with lots of learning taking place.
---
Paul Moslin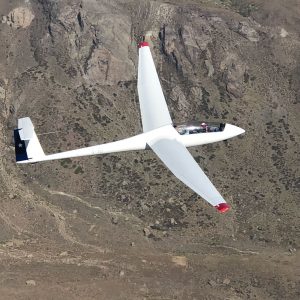 First on the grid, in the mighty Nimbus 3, with a similar forecast to the previous day and with a stronger inversion will make it an interesting trip. Standard departure to Manquehue, good clim taken there then off to the North to the rising group on the foothills of type Andeas. Similar routing to previous days, Alex demonstrated some fine skills in running the ridges to Los Andeas, after some good ridge running thermals were at times difficult to use, in the most awkward parts of the ridges. Finally after some great coaching we make it to Copin. A great run back to Vitacura with a little formation flight with Frank finishes another great day. Lessons learnt for the day is string is not always required to be straight…..
Frank Soowamber
2nd on the grid with Helmuth, we expected a difficult day following the Met brief. Climbing briefly on Manquehue and joining Jon in thermals by Portreous, we soon realised it would be a demanding day with such little wind available from the ridges. Opting not to hang around on Laboratory would prove to be a sobering decision with much needed work required to gain the smallest amount of lift. Helmuth assisted with pushing us even further north looking for any signs of lift and a welcomed top up in a strong thermal made it much more comfortable in the cockpit. Remaining in constant contact with the others, we used the information to form a decision on how to progress but after 70kms we headed back along the ridge lines for Vitacura with -200m required for the glide home… Landing back after 4.5hrs, we shared experiences over a cold beer and a dip in the pool which was great.
---
Paul Moslin
No 3 on the grid, similar conditions to previous days. Standard departure via Manquehue to Porteous where a good climb allowed us to progress to Laboratory and pure perseverance allowed us to get sufficient higher to move on to Espanoles which worked for some of the time, but we had to retreat to Moraco, then to Lagunas and. Denococa and Copin. It was a great day to practice some of the ridge Soaring skills, thermal Soaring up a ridge line, soaring up shallow sloping ground and working up an irregular ridge. Great run back in loose formation on all the ridges with Alan and Jon down to Blanco and return to Viracura.
---
Alan Swan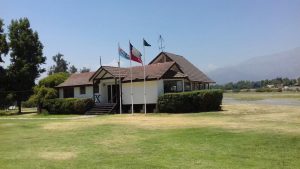 A very challenging day with a hard inversion that limited climbs to 3000m so we had to work North via the lower ridges. We managed to step across the Los Andes valley and up to Laguna Copin. We then returned South flying the ridges for 100km before returning to Vitacura, total of 200km.
---
Jon Arnold
Back into the "large two seater" today on the trickiest of days. We sit above laboratory north and venture up Espanoles. But our strategy fails and we have to head south across Moraco. At the top we press onto truchas. Another poor decision ends up with us low on cobra for an hour or more. Eventually we cross the valley to Lagunas and at the northern end we climb from 2000m . Creeping up the western ridges we get to 3100m but the day is dying .. we decide to head back south and follow the ridges down the eastern side of Santiago to blanco. Arriving on blanco, there is no wind, so we cannot climb and so head for home…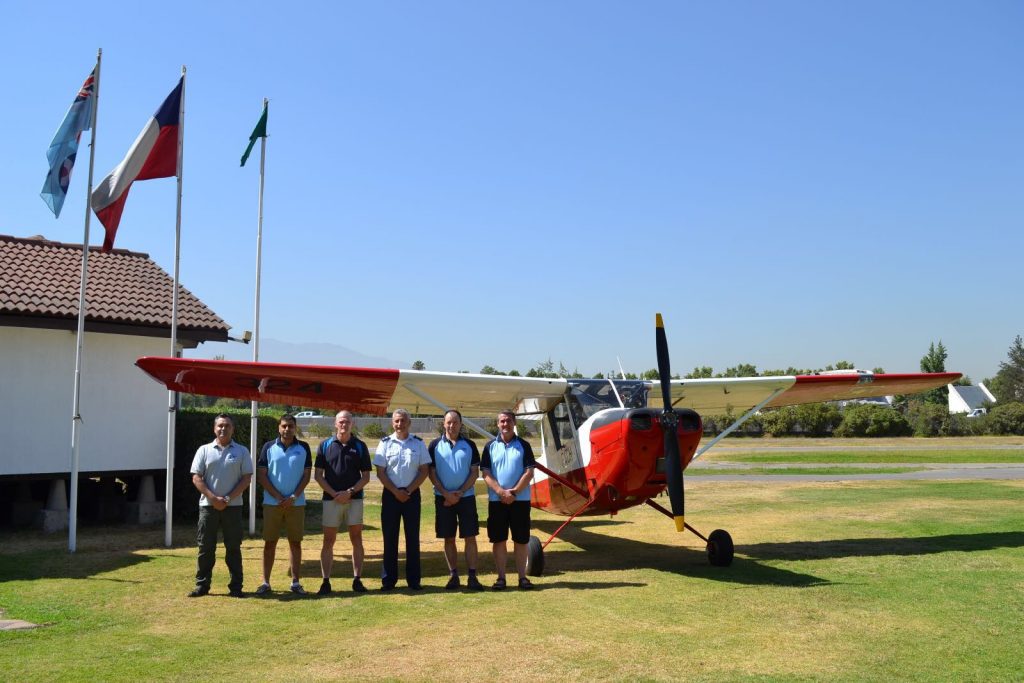 Alan Swan
Before flying we were visited by General Jose Aguirre Gambia, all part of the Defence Engagement piece. Although the forecast was slightly better than yesterday the reality was that the inversion was even more pronounced and no one was able to break through to the upper system. Being last to launch I had a long tow onto Laboratory but still found it impossible to climb high enough to exploit Espanoles and entry into the upper system. So we were forced to work North on the outside via Lagunas to Laguna Copin. We then flew the ridges South passing Vitacura to Apoya before return, another 200km.
---
Paul Moslin
After the 2 Star visit we were presented with the conditions today. It's become evident from the DGAC Met brief that conditions were far from ideal to go into the higher system due to the poor conditions in the lower system. A strong inversion quire low will make progress difficult. Lots of low level ridge work in reflectively weak conditions with Flaco making slow progress to Lagunas with a nice run back to Vitacura via the ski resorts.
---
Frank Soowamber
Again, weather conditions would be our limiting factor especially with the strong inversion. Arturo and I climbed quickly on Manquehue but soon found ourself low and working hard at Portreous and with a possible land back at Vitacura for a relaunch, finding any lift would be our main priority! The entire team remained in radio contact providing mutual assistance for any routes to try… Joining a club Ventus, we headed along the ridges at Copin with only pockets of thermals to help. Returning for home after 95km and working hard to maintain enough height for a safe landing back at Vitacura, we landed after 4.5hrs for a well deserved cold beer.
---
Jon Arnold
As above the weather is not looking promising so we tow near laboratory. After release it's apparent that the airmass is very stable. After a scrape near he eagle rock we climb steadily in the first thermal of the day. Stepping up 100m at a time we get to Espanoles . We spend An hour or more trying to get 3800 m to jump inside the high mountains …. 3600 is the best we can do… the temperature falls one degree and dew point rises, killing any chance to get inside. The upper system is within touching distance …
So we head west and north without succcess. At Copin we turn south lowers that we want and run the lift in Decaying condition all the way to Santiago and south towards blanco…. before heading for home..