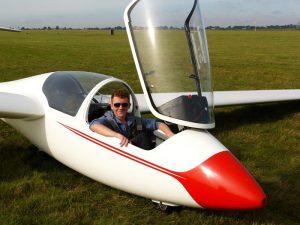 The Association has a history of producing pilots at the very highest levels of this exacting sport and has even produced a triple world champion. However, the emphasis lies firmly with training the uninitiated and introducing servicemen, civilian MOD employees and their families to this safe but exhilarating aviation sport.
The RAFGSA Centre is the focal point for gliding activity within the Association and employs full-time personnel who are authorised to conduct the Joint Service Adventurous Training Scheme. There are currently 12 regional gliding clubs, including the Centre, located at or near RAF stations. Each club has an excellent range of aircraft including tandem two-seaters and an assortment of single seat gliders, catering for all standards from the early solo pilot to the advanced cross-country exponent.
Instructional flights are carried out with qualified instructors who are all volunteers. With regular attendance at a club, a complete novice may go solo within 60 flights. Instruction is based on a tried and tested syllabus that should encourage pilots to experience much more than just solo flying. Intermediate and advanced training is available for everyone to experience when the weather permits.
More experienced pilots usually progress to cross-country flying and often into competitions at regional and national level. It is surprising how far these powerless machines will fly, relying only on thermals to climb and glide. Flights of over 1000 miles have been recorded and distances exceeding 300 miles are frequently flown in the UK. These flights require skill, experience and an element of luck with the weather of course. When the weather deteriorates it is normal and safe practice to land in a suitable field. The uncertainty is all part of the excitement, but the experience will normally cost the pilot a few beers for those who volunteer to collect him (gliders are derigged and transported in trailers)!
Participation in the annual Inter-Services Regional Gliding Championships is always a thrill, with all ranks from LAC to AVM pitching their skills against each other. In addition RAFGSA pilots have achieved much success flying in military competitions in France and Germany. But gliding is not just restricted to the summer months; the winter provides equally good soaring conditions in some areas. Expeditions are made annually to the Southern Alps in France, to Scotland, Wales and the Pennines in order to explore the lift produced by mountains, slopes and associated winds. It is at these times that pilots aim to fly high, often using oxygen to reach altitudes exceeding 30,000 ft. Flights in gliders in the UK have almost reached 40,000 ft and even greater heights have been achieved overseas.
The RAFGSA clubs offer temporary membership for around £5 a month to personnel who wish to give gliding a try, without committing themselves. Many clubs will give interested visitors a trial flight for free. Full membership of the Association costs in the region of £50 – £60, and entitles personnel to reciprocal membership at the other RAFGSA clubs. If you would like to try gliding, just turn up at your nearest club on any weekend or bank holiday; details can be obtained from your PEd Flt or elsewhere on this website.