Chilean Air Force visits RAFGSA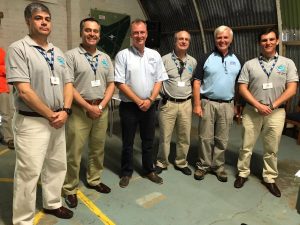 23rd July – 5th August saw a select team from the Chilean Air Force (FACh) return to the UK.
The invitation from the Chief of the Air Staff to the Chilean Air Force is an integral part of a long standing reciprocal arrangement between the RAF and FACh, which cements the UK/Chilean relationship at senior levels against the backdrop of wider defence diplomacy objectives.
Their visit this year also coincided with the Interservices Regional Gliding Competition at Keevil airfield. This allowed our visitors to experience the challenging UK cross country conditions and endure the unpredictability of the British climate!
Plans are underway for a reciprocal visit by the RAFGSA to Santiago for January 2018.